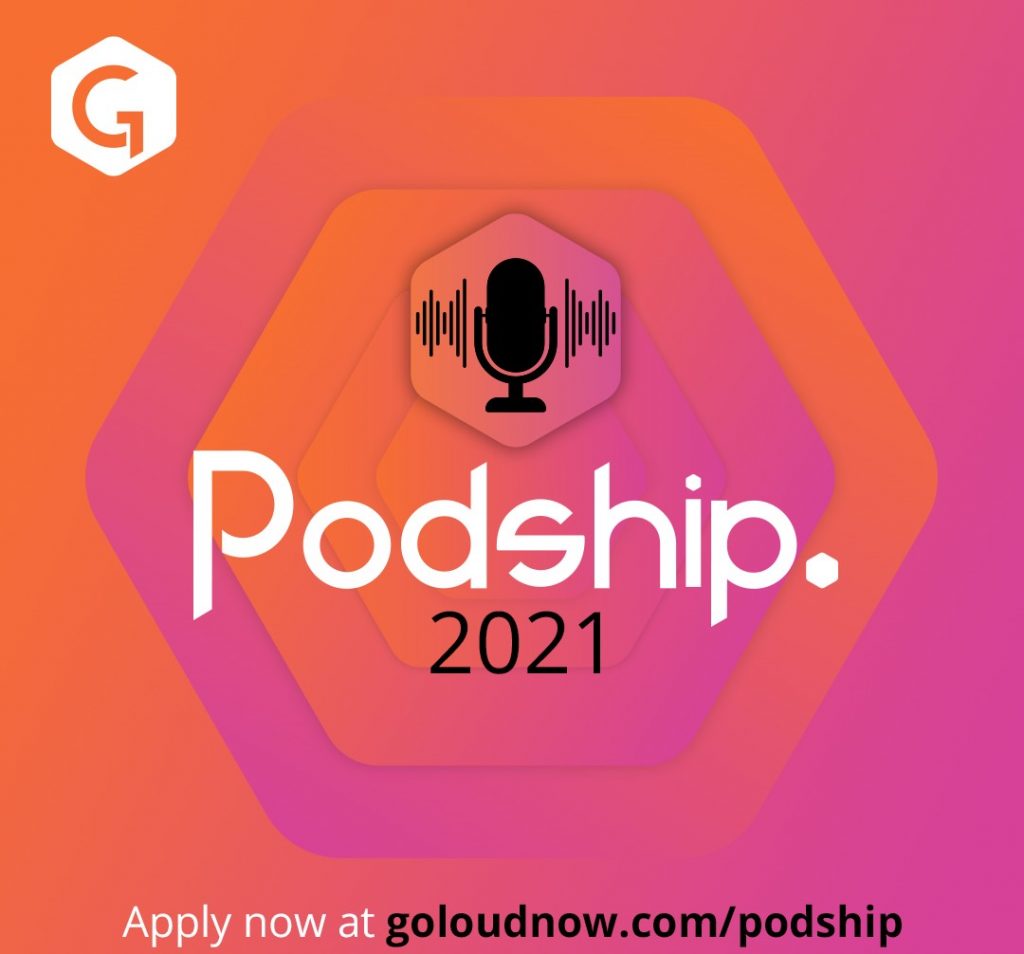 GOLOUD LAUNCHES SEARCH FOR NEXT ORIGINAL PODCAST SERIES

Submissions for GoLoud Podship 2021 Open Now

GoLoud, Ireland's first digital audio app to offer live radio, podcasts and music streaming in one place, has launched the GoLoud Podship 2021, inviting submissions for an original podcast series.

Now in its second year, the GoLoud Podship was created to support creators to originate, develop and produce high quality audio content. The bursary worth €20,00 includes a €5,000 cash prize, access to in-house studio facilities, production, editorial and marketing support.

The GoLoud Podship is open to anyone with an original idea for a podcast series. The successful applicant will be afforded production, distribution and promotional support from radio and audio experts, ensuring the winning series will be heard by thousands of people.

An expert judging panel will review and critique submissions before inviting shortlisted applicants forward for a 'Pitch Your Pod' virtual presentation. Submissions must be at least 8 episodes long and will be judged on originality, creativity, and the ability to appeal to a wide audience. All genre will be considered with particular interest in categories including Comedy, Entertainment, Health and Lifestyle.

Last month, GoLoud announced and released its Podship 2020 winner; Invisible Threads, hosted by winning applicant, James O'Hagan tells the powerful stories of 8 older members of the LGBTQ+ community as they open up about their experience living as a queer person in Ireland, with contributions from psychologist Dr Paul D'Alton.

Of the winning series, the GoLoud judging panel said: "We knew from the outset that this had the potential to be a great podcast. James' passion and determination to give a generation of people a voice was evident and what he has delivered is audio storytelling at its very best – raw, honest, heartfelt personal accounts that give us all cause for reflection on a very important part of our history".

Kiela Brodigan, GoLoud Director said: "GoLoud is all about delivering great audio to Irish audiences. From brilliant radio moments each and every day, to music playlists for every mood and occasion to the best Irish and international podcasts. Digital audio has exploded in Ireland but one of the main barriers to entry for podcast creators remains the know-how and expertise to bring a brilliant idea to life. Because of our audio heritage, GoLoud delivers that expertise and experience and the recent launch of the brilliant Invisible Threads is testament to that and our continued commitment to support and promote Irish content creators. The wealth of talent in this market is remarkable and I can't wait to see what this year's GoLoud Podship brings."

Darren Cleary, GoLoud Managing Editor said: "The launch of the GoLoud Podship reinforces our commitment to creating quality content and it offers an entirely new set of support structures and opportunities for producers, presenters and creatives. We're the only full-service player in the podcast game in Ireland, from production at our state-of-the-art studios in Dublin, cross-promotion, and marketing to our weekly FM radio audience of 1.75 million people, and commercial integration and monetisation by one of the leading media sales houses in Ireland. Our aim is to offer a professional podcast platform for emerging voices in Irish life which will enable them to produce

market changing, habit creating, innovative digital properties and podcasts. This is an exciting time for the podcast industry in Ireland."

Applications for the GoLoud Podship 2021 open now and will close on Friday, 23rd July. See goloudnow.com/podship for full details and application form.