Suzanne Kane is set to join 98FM as a new mid-morning show host. Kicking off next week, 'Suzanne Kane on 98FM' promises great music, in the form of the biggest 90's and noughties dance and RnB anthems and great content, from comedy and parenting to the best places to eat in Dublin. Listeners can also expect regular features on health, wellbeing and what to watch or stream tonight!
Suzanne Kane on 98FM will bring some comedy to the Dublin airwaves each week as hugely popular comedian and rising social media star, Emma Doran will appear on the show every Thursday with a new sketch. Emma has seen her popularity and fanbase grow during lockdown with her hilariously relatable video skits.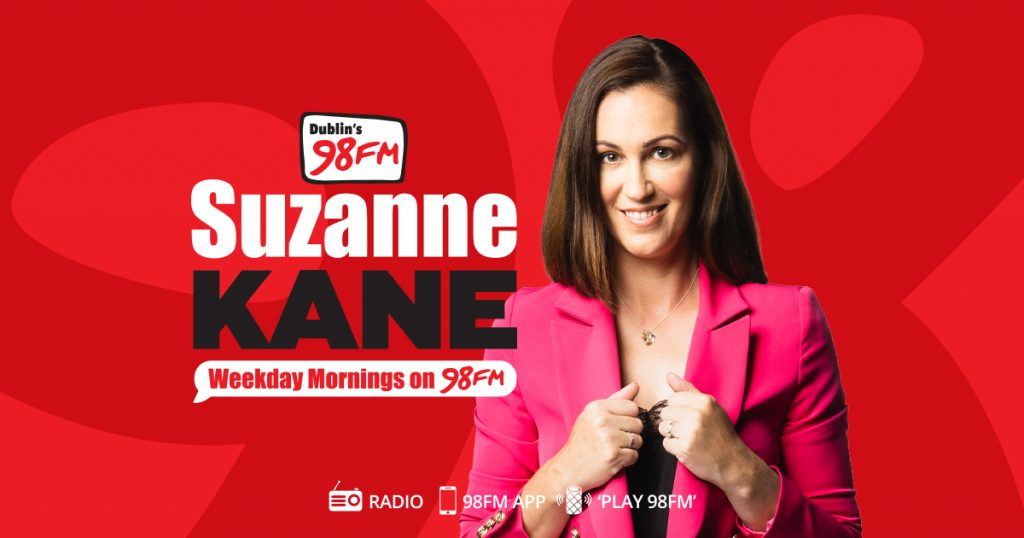 Suzanne is no stranger to radio, having regularly appeared on national and local stations including Today FM where she has presented on a number of occasions. In a TV capacity, Suzanne frequently appears on Ireland AM and Weekend AM. Suzanne has also had big success in the world of podcasting as she and comedian PJ Gallagher are creators and hosts of 'Dubland, The Podcast'.
Suzanne, who enjoys a loyal social media following, regularly gives her online audience an insight into her everyday life on Instagram – from what she's wearing, watching and eating to her kids wardrobe and general daily life goings on! She is a huge Dubs fan, hails from Templeogue and is married to Joey, with whom she has 3 children.
Michael Brett, 98FM Content Director said:
"We're delighted to welcome Suzanne to 98FM. Whether you're listening in the office or at home after the school run, I know Suzanne's energy and fun personality will be a hit. We have a really exciting show planned along with the biggest 98FM anthems to keep Dublin moving."
Commenting on her new show, Suzanne Kane said:
"I'm really excited to be joining a brilliant line up on 98FM. A decade or two ago, my first "real" radio job was on the 98FM street team. I always aspired to be part of the on-air team. So it feels like I've definitely come full circle"
Suzanne Kane on 98FM will air weekdays, 10am-1pm from Monday, 6th September. Listen live on 98fm.com or via the 98FM app.