GoLoud, Ireland's first digital audio app to offer podcasts, live radio, and music streaming in one place, has today announced the launch of DIRT, a GoLoud Original podcast hosted weekly by Ireland's favourite gardener, Diarmuid Gavin alongside horticulturist Paul Smyth.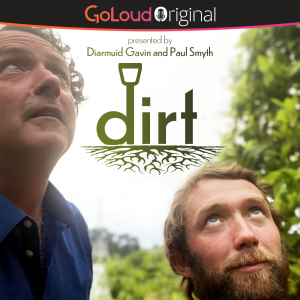 Diarmuid Gavin and Paul Smyth want to take the exclusivity out of gardening and make it accessible to everyone. This podcast will seamlessly switch from the irreverent, like planting the perfect tree for your suburban plot to the serious issues within the horticultural world such as the lack of diversity and racial bias. All human life is sustained by the soil under your feet, and you are invited to get your hands dirty every week with this new podcast.
DIRT offers practical advice for all would-be gardeners and experienced planters, explores viral trends and controversial debates and challenges you to look at whatever space you have in a new way.
Of their new GoLoud Original podcasts, the hosts said: "We are thrilled to launch DIRT and bring you weekly advice, ponderings and sharing our enthusiasm of gardening with everyone. This gives us an opportunity to talk about where gardening fits and who gardening is for."
Kiela Brodigan, GoLoud Director said: "DIRT is the ideal title to add to our slate of original series on GoLoud. We're committed to fostering the best on-mic talent that Ireland has to offer, so we are thrilled to welcome both Diarmuid and Paul to the team."
Commenting on this new GoLoud Original, Darren Cleary, GoLoud Managing Editor said: "Diarmuid Gavin has been the authoritative voice on gardening for over three decades, his enthusiasm and experience is a brilliant addition to the GoLoud Originals series. It's the perfect pairing, Paul is a rising star in horticultural circles and together with Diarmuid they form a brilliant partnership that is engaging, informative and entertaining. DIRT is a wonderful addition to the podcast landscape here in Ireland and the UK."
DIRT, a GoLoud Original Podcast launched yesterday, 28th June. Episode 1 is available now on the GoLoud app and on goloudnow.com.
Diarmuid Gavin is an award-winning Garden Designer, Broadcaster, Author and Columnist who works in a contemporary style throughout the world. He is a graduate of the National Botanic Gardens in Glasnevin. In 2007, he was awarded an honorary Doctor of Art from Nottingham Trent University in recognition of his contribution to garden design. He has exhibited many times at the RHS Chelsea Flower Show where he seeks to challenge the conventions of garden design.    
Paul graduated from Waterford Institute of Technology in 2015 with a BSc in Horticulture. He worked as chief propagator in Crug Farm, the internationally renowned nursery in North Wales. He is known for his plant hunting expeditions in Vietnam and his award-winning nursery displays at the RHS Chelsea Flower show.